Apply for a grant to lower carbon emissions in Haringey.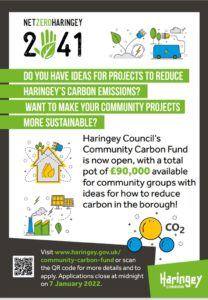 The Community Carbon aims to bring radical and innovative carbon reduction ideas to life, whilst empowering Haringey communities. The variety of groups who can apply include registered charities, community and voluntary groups, co-operatives, faith and
equalities groups, community interest companies, social enterprises, tenant management organisations and community benefit societies.
Full details can be found here.
The smallest 'micro grants' of about £500 can be applied for by individuals, or community groups that are not constituted, and, for example, can be for any type of small project or piece of equipment to help reduce carbon emissions locally. Larger awards of £3,000, £15,00 up to £50,000 have restrictions for organisation types and need to have bank accounts.
Timeline
17th November 2021  – First online Q&A
8 December 2021  – Second online Q&A
by 7th Jan 2022  – Closure for applications
March 2022 – awards announced
More