Could your group use £1,000 to £50,000 for a project with demonstrable and
measurable carbon savings?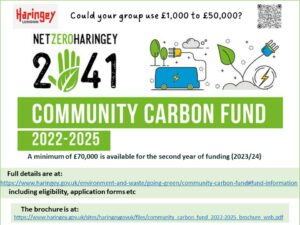 The Haringey Carbon Fund has opened for applications up till 6th January 2023 for carbon projects delivering next year.
The Haringey web page is here and links to a brochure with more details, and there will be two events for Q&Q sessions..
General Principles
Projects must show a demonstrable and measurable carbon saving. This could be achieved by reducing energy bills for a building after insulating it, and/or installing a replacement lowcarbon heat source to provide heating and hot water.
Carbon reductions could also be achieved through lower carbon transport solutions, such as an e-cargo bike instead of a van.
Community projects must also benefit and engage the wider community in the climate change agenda by promoting the benefits of the project and engaging residents into wider behaviour changes.
Contributing to Haringey's equality objectives is a final important aspect for projects receiving funding. Engagement should take place with a cross-section of Haringey's population, beyond the immediate group who may benefit.