The Transition Network has awarded National Lottery funds for this popup exhibition at Lauderdale House Highgate, with a 'Mini TED talk' on 23rd June and an Eco-Fair on the 26th. Click title for details.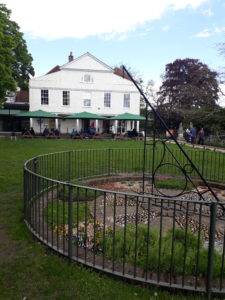 Highgate Eco Pop-up exhibition
– Popping up sometimes in the Entrance Gallery and sometimes on the Tea Lawn of Lauderdale House!
When: 19th – 27th June 12 – 5pm daily
Where: Lauderdale House is based in the grounds of Waterlow Park just off Highgate Hill, close to both Archway and Highgate Village and on the 271, 143 and 210 bus routes.
Come and visit to find out about how you can take part in the challenge of the Climate Crisis and sign up for some local climate action. The themes of the exhibition include; Energy, Buildings, Transport, Waste and Recycling, Growing and Biodiversity, Community and the Global Context.
There will be information about many organisations and projects across Camden and Haringey and lots of ways for you to get involved.
There will be Pop-up mini-TED talks on Wednesday evening (23rd June 7pm to 8pm) – 5min bite sized talks from local climate activists about the biggest challenge of our generation. Including speakers representing the young generation, Highgate Neighbourhood Forum, a double act of PUNL and en10ergy, Muswell Hill Sustainability Group, XR, Parkland Walk Wildlife Trail, Think and Do and Siân Berry will be the key speaker.
Bring a blanket, refreshments and some friends to the Tea Lawn, Lauderdale House to hear the talks.
For other eco events during the Highgate Festival. Please visit www.highgatefestival.org for more details.