Re-invent; Re-design; Re-purpose. Join Haringey residents celebrating recycling week. Click title for details.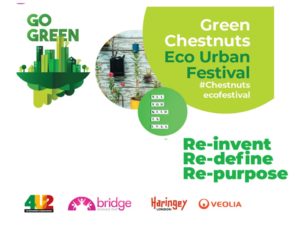 Chestnuts Go Green Eco Festival 20th to 26th September – part of the Great Big Green Week (18th to 26th Sept).

Join in our easy access online and face to face activities with stalls, demonstrations, innovative workshops, promoting eco-friendly, sustainable, natural 'free from' healthy products and local services.
Themes: transport/active travel, clothes/recycling, food growing/community gardening/green spaces, energy/housing retrofit and sustainable business/jobs.
Contact: info@4u2newsmag.com phone:07778224342
Timetable
Saturday 18th Sept (Wolves Lane) – Open glasshouses for the National Gardens Scheme,  11am to 3pm (£5 entry fee applies)
Sunday 19th Sept (Wolves Lane) – 11.30am Earthing Workshop in Chestnuts Park followed by the launch event at 2.30pm at the Chestnuts Park café.
Monday 20th Sept – 1pm at Chestnuts community Centre, 280 St Ann's Road, London N15 5BNwith the seed swap and community garden mapping. At 3.30pm there is a garden fete in St Ann's Hospital. At 5pm the evening event starts at the Jazz Cafe, Broadwater Farm Community Centre Adams Road Tottenham N17 6HE.
Tuesday 21st Sept  (Chestnuts Community Centre Dance Studio). Midday to 5pm energy saving advice plus the pop up eco-house and videos of local green homes.
Wed 22nd Sept – (Chestnuts) 10am to 6pm green jobs fair and business lunch. Friends of the Earth what are green jobs? measuring carbon emissions from businesses.
Thursday 23rd Sept (Chestnuts)  – Recycling, sustainable fashion and crafting 11am to 5pm. Veolia, North London Waste Authority, book and CD swap, restyling clothes, litter pick, art from rubbish, litter pick
Friday 24th Sept (Chestnuts) – active travel council team, e-bikes and cars, bike swap, bike repair, tree walk, LTNs
Saturday 25th Sept (St Ann's hospital N15 3TH) – Peace and Wellbeing Festival Catalyst Housing St Ann's  hospital
Sunday 26th Sept (Finsbury Park to Downhills Park) – the Big Ride and Walk, starts 10.30am
#Chestnutsecofestival