12.30 – 2.30. Monday 2nd October, Monday 6th November.: 5th February, Monday 4th March.
Eco Urban Monday Pop-in Mornings at Chestnuts Community Centre
Following the success of the Go Green Eco Urban Festival in June, we're organising a monthly eco pop-in at Chestnuts Community Centre (N15 5BN) to promote environmental awareness.
On 2nd Oct NEA will come and talk about Smart Meters. How can they help you save money?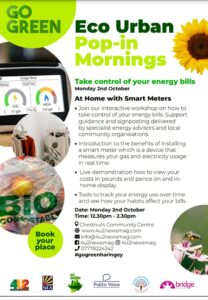 Do you have an upcoming green event, activity, or scheme? Use the pop-in space to continue the green conversation.
Topics could include recycling/upcycling, reducing food waste, energy saving, inclusive biodiversity, employment/training for green jobs, composting, jam making, pickling foods, and more. Crafters and makers are welcome to book a stall to showcase what you do. Email us at info@4u2newsmag.com if you would like to take part in one of the pop-ins.
See also the Haringey web page: https://www.haringey.gov.uk/events/202308/go-green-eco-urban-pop-mornings