Learn about the hidden emissions impact of your building works – a hybrid meeting at 7pm
Every building causes carbon emissions called 'embodied carbon' at every stage of its life – mining materials, transporting, building, occupants use of energy until final demolition. The choices made at each stage, especially at the end of life affect whether the emissions are high or low. Retrofit or demolish? Which is best?
Click for a booking for Embodied Carbon: here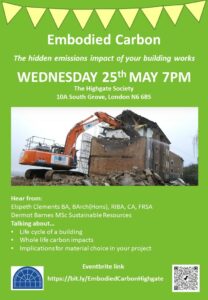 Highgate Society is exploring this topic with talks on:
life cycle of a building
whole life carbon impacts
implications for material choice in your project
with talks from Elspeth Clements BA, BArch(Hons), RIBA, CA, FRSA and Dermot Barnes MSc.
Register with Event Brite for a place in the hall or a virtual link. Wine and nibbles will be available in the hall requesting a donation.