The Parks consultation is open until the 27th November 2022 and you can complete a survey and/or write to the Parks department
The Haringey Climate Forum had a meeting on 3 November where Mike Hakata, deputy lead and environment cabinet member and Paul Ely – Parks and Green Spaces Strategy(PGSS) project manager. The record of this meeting is here. Notes from meeting between Haringey Climate Forum and Haringey Council about the Parks and Greenspaces Strategy.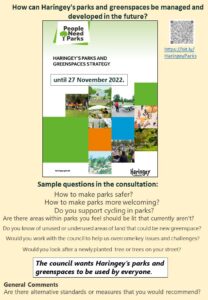 Paul Ely presented slides at the 3rd Nov meeting entitled Parks and Greenspaces Strategy for the Haringey Climate forum
The attendees were also given copies of the 'People Need Parks' booklet – Haringey's Parks and Greenspaces strategy.
The notes of that meeting are here.
The Haringey Parks consultation – closing on 27th Nov 2022
The 3 key strategic aims of the Parks and Green Spaces Strategy are:
inclusion and wellbeing
climate change and sustainability
a quality service
Haringey Council has all the details of the consultation here, with the list of all the supporting documents  here including
The survey is accessed here and the section below contains the list of questions for quick reference.  As well as (or instead of) completing the survey, Haringey residents are invited to email comments on topics to do with Parks to Paul Ely Paul.Ely@haringey.gov.uk
The Draft response from Tottenham & Wood Green Friends of the Earth here was distributed and the link provided to the Haringey Tree Defenders Vision Doc here.