Solar Together group-buying for solar panels and battery storage comes back to Haringey for 2021.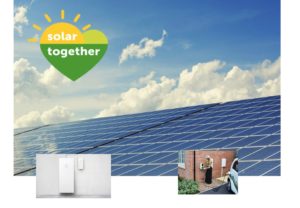 Timeline
by 23rd March  – register (no commitment)
12th April will get personal proposal, which will be based on roof area, orientation etc
21st May – decide whether to accept – online information sessions
End Oct 2021 – installations complete
For the Solar Together web site click here.
More
There was a very successful Solar Together scheme in 2018/19 and this new scheme also additionally offers householders who already have solar panels batteries only.
Points worth noting from that exercise are:
You'll need an Energy Performance Certificate already above a D, or you need to pay for a new one. You may need to do some energy efficiency work to  get it D – which is another win for the planet. To find your EPC click here.
If you live in a Conservation Area you'll need permission in a conservation area problems (as not allowed on street side). National guidelines align with Haringey planning regulations


"Planning permission is required for some changes that would normally be classed as permitted development.

Installation of roof lights or solar panels that would protrude more than 150mm from the roof slope.
The installation of solar panels on a wall which fronts a highway"

 You will need rights to the roof, or legal agreement from the owner of the roof.
You will need a sound roof, with a reasonable space, reasonable access and not facing north
Be aware that the cost and savings calculation will assume Xp kWh  for electricity (excluding daily charge), so if you have a better deal you would save less
Some electricity suppliers have 'Smart Export Guarantee' to pay for your surplus generation . Octopus' SEG is called an 'Outgoing Tariff' but some other suppliers have a similar offer (others just take your surplus for free)
You should check that the figures allow for an inverter replacement after 10 years
Including a battery purchase may mean that your electricity won't cut out during power cuts but also requires an Energy Power System socket at an extra cost of around £400.

If you want to fuel your car with 100% zero carbon electricity you will need an EV charger, which your installer will discuss with you.
Get UK (https://get-uk.com/ ) won the tender, and a webinar with explanation is at https://ichoosr.webinargeek.com/watch/replay/909467/6839e3450cd10c2963f8a957213800a8/