Have your say about the 2023 proposals.
The initial London Ultra Low Emission Zone (ULEZ) was in April 2019 for vehicles travelling into central London, and this was expanded to cover inner London in October 2021. The proposal being consulted is to expand this to the whole of London in Aug 2023. Click on picture for the explanatory brochure.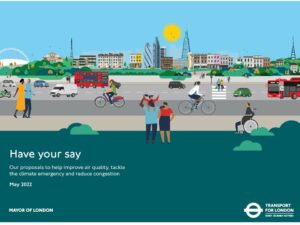 Reason 1 – vehicles using fossil fuels ie diesel and petrol are poisoning our planet.
Diesel vehicles incur fewer carbon emissions per mile than petrol, but both diesel and petrol cars are a big cause of climate change. 28% of CO2 emissions in the capital are from diesel and petrol vehicles.
Reason 2 – vehicles are poisoning our roads
Diesel and petrol cars spew out pollutants to our roads – particularly at toddler height. 44%  of NOX pollutants and 31% PM2.5 pollutants in the capital. See Green Vehicles on Our Roads for more information.

Reason 3 – low carbon methods of transport must take over.
Walking, cycling and public transport reduces these perils. Electric power on transport – cars, vans, scooters, trucks do not incur CO2 from well to road (see video below). They do also have some pollutants from brakes and tryres, but not from exhausts!
Go to fl.gov.uk/clean-air to have your say before 29th July
What?
Daily charge of £12.50 if you drive

within the zone, unless eligible for no charge

Eligible for no charge – Petrol: Euro 4, Diesel: Euro 6. It is easier to check at https://tfl.gov.uk/modes/driving/check-your-vehicle/ than fathom out what this means!

Operate 24 hours a day, seven days

a week, 364 days a year, excluding

Christmas Day
Where?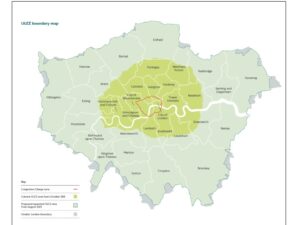 Carbon emissions - diesel and petrol v electric