Haringey communities working with Haringey council.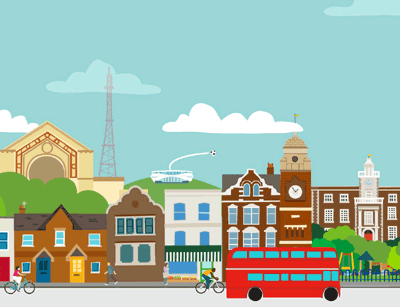 Imagine electric cars, state of the art buses and cyclists moving fluidly and quietly along Green Lanes and Muswell Hill Broadway. People walking and cycling to work in Tottenham's thriving green business sector. The view from Alexandra Palace glistening with solar panels crowning the rooftops, producing clean electricity. Our homes are warm and cosy in winter and our energy bills are lower.
We can all work together from 2020 to recover from the Covid catastrophe, whilst moving people from unemployment and poverty to the quality jobs that tackle climate breakdown and ecological harm. 
Explore the topics at Zero Carbon Haringey to see what we can do.
Friends of the Earth have organised this jointly with some Greenpeace activists and Wildlife & Countryside Link. The debate, chaired by presenter & environmentalist Julia Bradbury, will allow Mayoral candidates to forward their policies on nature and climate to London's voters. Click on this title to register here and for more information here.  
The event will be chaired by Gerry Robinson, formerly headteacher of WoodsideHigh School, now head of the Haringey Learning Partnership. Click on title to read more.    
"What are green jobs, and what could they mean for Haringey?" is an online event that will feature a panel of Haringey business people, unions, and green jobs experts. click on title for details.