Progress on homes in Haringey
 Council New Builds
Haringey Council has taken management of it homes back in house. click here. It is undertaking an ambitious programme of building new council homes and retrofitting older ones. As at April 2023 Haringey had 2,037 council homes under construction. click here.
Jack Goulde of the Haringey Housing Delivery Team delivered a presentation to the Haringey Climate Forum on 4th April 2023:
New Era for Haringey Council Home building – click here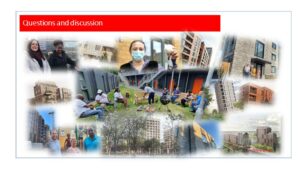 Jack reported that 3,000 homes are to be built by 2031, in context of 12,500 households on waiting list. So far all on brownfield sites though this could change.
The housing is being designed to the highest standard:
Spacious homes that meet or exceed planning requirements for size and light.
Homes built with high levels of insulation and energy efficiency.
Going beyond the planning requirements on overheating assessments and calculating whole life carbon emissions.
Repurposing, disused buildings for new family sized homes.
Working towards Passivhaus certification for zero carbon, but not all possible due to orientation
Also including trees and green spaces, bike storage etc.
See the presentation for details of new homes in Edith Road (Bounds Green), Chocolate Factory (Noel Park), Cranwood House (Muswell Hill), Hale Wharf (Tottenham Hale), Ashley Road depot development (Tottenham Hale) . Haringey will be pioneering a new volumetric, modular construction method at Woodridings Court (Alexandra) for 33 new homes.
 Council Retrofits
Gill Cox delivered a presentation to the Haringey Climate Forum on 4th April 2023:
Council Housing Energy Action Plan – 2023 – 2028. For the slides click here.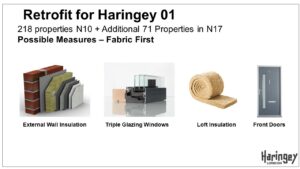 Highlights include:
Whole House Retrofit Plans with a fabric first approach
Worst first – alongside integration with major works programmes
To align with borough wider strategic objectives to deliver maximum impact
To phase out the installation of new gas boilers after 2026
Compliance with Government retrofit standards (PAS2035/2030) and Trustmark.
Working in partnership with tenants on co-design
Support innovation in reducing energy costs
To use HRA budget to leverage additional external funding and secure value for money