Muswell Hill's Die-In for the Climate and Ecological Emergency bill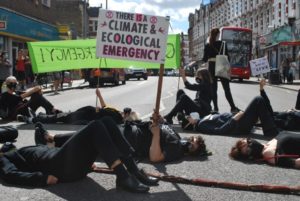 Over 30 local Extinction Rebellion activists including MHSG members staged a series of 'Die-Ins' on Muswell Hill's roads at the end of August 2020 to alert residents to the climate emergency, aligned with larger protests in London, Manchester and Cardiff – 'XR's 3rd Uprising'.
They called for MPs to support the Climate and Ecological Emergency Bill.  The Bill calls for:
the UK to make and enact a serious plan to deal with our share of emissions so that we don't go over critical global rises in temperature
our entire carbon footprint be taken into account (in the UK and overseas)
protection and conservation of nature here and overseas along supply chains, recognising the damage we cause through the goods we consume
those in power not to depend on technology to save the day, which is used as an excuse to carry on polluting as usual
ordinary people to have a real say on the way forward in a citizens' assembly with bite.
The Climate and Ecological Bill has been developed with members of the successful Big Ask campaign that led to the Climate Change Act, Power for People and members of Extinction Rebellion with contributions from eminent scientists, academics and lawyers.
On 28th Sept 2020 the Prime Minister signed a Leaders Pledge at the virtual UN Summit on Biodiversity, committing to protect 30% of the UK's land by 2030. The value and sincerity of this is disputed and the Environment Bill, promised as part of the election manifesto has yet to see the light of day.
The Climate Change Act (2008) took three years to go through Parliament, but, if Boris Johnson genuinely intends to reverse ecological damage in the UK, according to his speech, he will be supporting the CEE quickly.
Track https://www.ceebill.uk/ to follow the latest information on the progress on this Bill.