Haringey Council has been reporting on Carbon emissions in the Borough since 2011 and constantly evolves its plans to do all it can to cut emissions from both council controlled and Haringey resident sources. 
The Annual Carbon Report was the first of its kind to be produced by a local authority. Its purpose was to provide a transparent year on year account of progress made to reduce carbon emissions from the council's operations and Haringey as a whole. See here.
Carbon Plans
Haringey's (draft) Climate Action Plan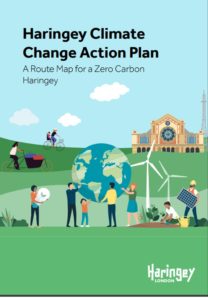 The Haringey Climate Change Action Plan – A Route Map for a Zero Carbon Haringey's plan was published in 2020 just before the Covid Crisis and is undergoing revisions. "the science is clear. We must deliver on this or accept a future with extreme weather events and reduced life opportunities. It is an emergency that we must respond to" The plan has actions for:
The Council
Our Housing Stock
Non-Domestic Emissions
Transport
Energy
Community
Zero Carbon by 2050
The Stage 2 Report Climate Action Haringey: Towards a zero carbon future (PDF, 9MB) set out the route map of actions for the council to achieve the 2050 zero-carbon ambition. It is being superceded by the ambition to achieve more in a shorter timeframe – see above.
Annual Carbon Reports
Carbon reports from the First for 2011 can be found at Annual Carbon Reports.
The latest carbon Report is for 2018/19 and can be downloaded here: Ninth Annual Carbon Report for 2018/19 (PDF, 4MB)