The 2022 Energy Crisis and Haringey
Some folk in Haringey can just go ahead and pay to upgrade their home to keep in heat, be well ventilated and even generate their own electricity. Most people however are needing advice, sound regulations – and funds.
Who owns/controls Haringey's homes?  Approximately 48.4% of Haringey households are owner occupiers (though often not the folk who are 'able to pay'), 23.4% live in social housing accommodation and 28.2% in private rented. (according to page 7 of Major housing works). They all need different help and advice to keep warm.
Who is responsible in Haringey Council? The cabinet member in Haringey responsible for Sustainability and Renewable Energy is Cllr Mike Hakata at mike.hakata@haringey.gov.uk and the cabinet member for Housing Services, Private Renters and Planning is Cllr Dana Carlin at dana.carlin@haringey.gov.uk.  The Affordable Warmth dept is at affordable.warmth@haringey.gov.uk . The Haringey Support Fund is at HaringeySupportFund@Haringey.gov.uk
What help is on the Haringey web? The Helping you Stay Warm and Well  web page has a collection of signposts eg:The Grants and Assistance web page includes links to the Mayor of London's Warmer Home programme and SHINE services for people struggling to keep warm. The Haringey Support Fund web page signposts Haringey residents to sources of funds, including:
– one-off payments for help with your basic living needs
– items for day to day living such as food and essential household items utilities including gas and electricity reconnection
For Landlords Haringey Council has a forum to keep landlords up to date with their latest obligations and opportunities.
The Committee on Climate Change (CCC)'s report on Residential heat decarbonisation  reveals the scale of the challenge across the UK, estimating that we need 11.9 million energy efficiency packages in existing homes across privately rented, local authority and 'fuel poor' homes – which does not even include 'able to pay' owner-occupied homes. And with the need to immediately ensure, before Winter 2022/23, that UK citizens can be warm this winter, when bills are so high and walls so leaky this is a challenge on a war time scale.
Energy Performance Certificates (EPCs) are used to classify the energy 'leakiness' of properties where the best can achieve A and the worst G.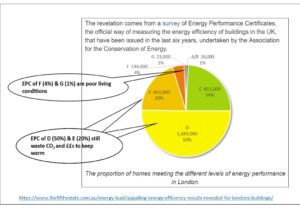 The Heat and Buildings Strategy page 103 shows the large number of D and E homes in the UK that need to be upgraded to at least C.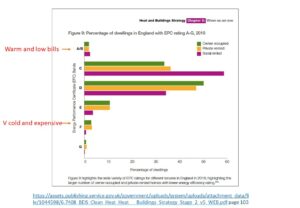 How many £££bn, from where to whom?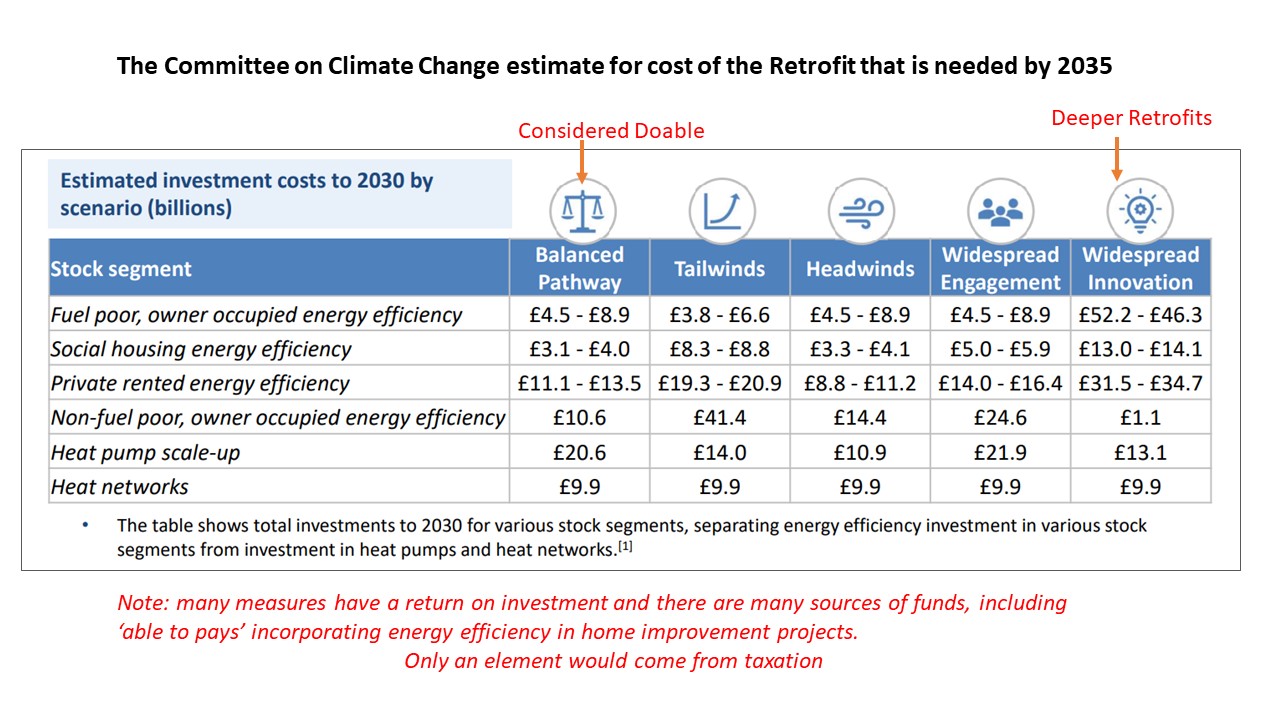 Sources of money
The required billions of £ predicted by the CCC here at p40 for 41% total yearly emissions abatement by 2035 at lowest cost show that it will be a very big challenge
The challenge to communicate with householders, insist on sound regulation, skill up workers and source materials is immense – but arguably routing money to fund the transformation of UK housing is even more daunting. Money for energy reduction measures and help with paying bills could come from:
The Government using money from taxes, create money
The Government obliging the companies that sell electricity to provide measures for colder properties with poorer occupiers. (note much of the 'green levy' element of electricity bills goes to gas reduction measures, making the continued use of gas more affordable according to this IFS study )
The GLA has acquired some funds from elsewhere eg the European Regional Development Fund
Some Local Authorities can find some funds eg from 'zero carbon' offset payments from developers and 'green bonds'
There are some charitable sources of funds.
Many owner occupiers can find capital or loans to reduce their energy use, but they need this to be an easy process.
Will these funding streams be enough to make UK properties fit for the future? We will all need to marshall funds and direct them to our leaky buildings with war time emergency urgency.
The Government promised at the last election at page 57  to invest £9.2 billion in the energy efficiency of homes, schools and hospitals as part of their pledge to get the UK to net zero carbon emissions by 2050.  Firstly the Government introduced a 'Green Homes Grant', but it was so badly run by an American company it was soon scrapped.
Since then the Government has launched a scheme to subsidise heat pumps, launched 'Local Authority Delivery '(LAD) and 'Home Upgrade Grant' (HUG) schemes and the Social Housing Decarbonisation Fund. It has also required energy companies provide schemes such as 'ECO4' and 'Warm Home Discount' funded from the 'green levy' elements of their customers electricity bills.
London's Plan

The GLA's Retrofit London Housing Action Plan was launched in October 2021 with the ambition to get London's 3.7 million London retrofitted to an average of EPC B or equivalent by 2030. It sets out actions for Boroughs across London with tools to ensure the average EPC B target is achieved.
The London Response – GLA's Warmer Homes Programme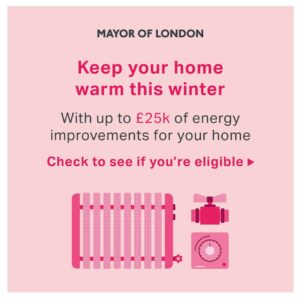 Warmer Homes | London City Hall Grants of between £5,000 and £25,000 are available to eligible low income homeowners and private tenants, with funding amounts depending on your existing energy efficiency rating, your tenure and your current fuel type (i.e. gas, electricity, oil or LPG).
All surveys and installations are managed by RetrofitWorks. They provide a dedicated contact who helps explain what improvements are most suitable and ensure that work is carried out to a high standard.
Community Groups helping residents apply for Warmer Homes.
People on low incomes who own their homes or private rented are eligible to apply for a Warmer Homes Grant, but may not trust it, as being 'too good to be true'.  'Warmer Home Advocates' who are taught about the scheme and can go out there to trusted contacts and help them sign up.
South East London Community Energy (SELCE), in partnership with the GLA and RetrofitWorks, is engaging Warmer Homes Advocates –  organisations that already support vulnerable households through energy advice, community provision or care support – to help households navigate the grant and retrofit process. They offer training, comms support and a stipe-end of £100 for every household that completes work. See here for more details with contacts, information sessions and the application form.
They have published the details in nine languages from the Warmer Homes page here.