A Climate Emergency Centre for Haringey
Environmental groups in Haringey are exploring the possibility of setting up a 'Climte Emergency Centre' (CEC) in Haringey. It builds on the work of the Haringey Community Action Network (HCAN) working with various local environment groups such as Stop the Edmonton Incinerator Now campaign, Haringey XR, Friends of Parks and Unite Community (environment).
Back in 2022 the Haringey Climate Forum talked to the Cabinet member for the environment, Mike Hakata, and the Carbon Officer Joe Baker about a campaign during that year's Go Green Week to discover community support for a dedicated Climate Centre. They were supportive, but the promised 'co-production' to take it further made no progress at that time.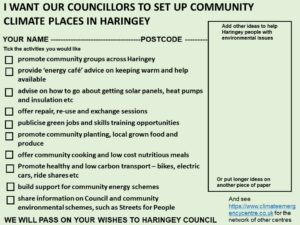 Local environment activists are working with the National CEC Network to turn the idea into reality. There is a CEC Telegram Chat Group and regular Zoom Meetings every Wednesday 7-8pm.
For instance Islington has a great Climate Emergency Centre nearby.
Islington CEC has pop up events, such as  Climate Fresk workshops, Collage sessions, workshops, swap shops and repair shops etc.
Other CECs offer a wide range of sessions, such as cooking on a budget, reducing energy use and community planting.
The Climate Emergency Centre Model.

The CEC has an inspiring website here and offers lots of advice and support to new Centres including a Handbook available here  with sections on all the topics needed for success:
STEP 1: BUILD YOUR TEAM
STEP 2: PUT PEN TO PAPER
STEP 3: GATHER YOUR RESOURCES 
STEP 4: FIND A SPACE
STEP 5: MEETINGS – SELF-ORGANISATION 
STEP 6: SET UP WORKING GROUPS
STEP 7: ORGANISE YOUR SPACE 
STEP 8: NETWORKING AND OUTREACH 
STEP 9: HEALTH AND SAFETY 
STEP 10 EXTRA INFO
Practicalities
The basic premise is to set up a legal entity – a community based charitable status organisation – , identify a public facing property (high street shop front is ideal) that is currently not being used, approach the leaseholder and offer to use it on a 'Meanwhile Lease" as a charity, which attracts 20% only business rates, thereby saving the owner loads of money, or get the council to do the heavy lifting and find a property. 
Ongoing funding can come from business owner donors, local council budgets, grants from public sector organisations.