The Time is Now Mass Lobby 
There was a Mass lobby of Parliament on 26th June 2019 opposite Parliament, organised by The Climate Coalition and Greener UK, two coalitions of organisations that represent millions of people across the UK. "From surfers to scientists, bird watchers to doctors, everyone has a stake in the state of our environment." And this was an opportunity for voters to impress on their MPs that they want immediate and drastic action to minimise Climate Breakdown.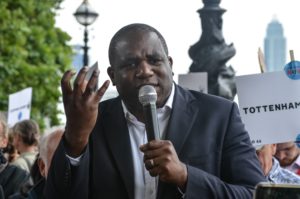 Around 380 MPs came out to meet with their constituents, ferried by rickshaw along the banks of the Thames. Time is Now lobbyists waited to meet their MP in a queue that wended its way down Millbank, across Lambeth Bridge, and up the eastern bank of the Thames. 
It was the largest ever environmental lobby of parliament.
At 2pm lobbyists rang phone alarms and alarm clocks to symbolise that 'the time is now to act'. There were also Mexican Waves, messages noted on seed paper that spelt out ACT NOW (which will be planted), and a wilded WWF phone box in which members of the public could leave messages for the country's leaders.
Constituents in Hornsey and Wood Green and Tottenham shared a position to listen to David Lammy MP on the crucial importance of the issue. Dr Alan Whitehead shadow minister for BEIS Energy and Climate Change spoke about clean energy, Natalia Dudzinska talked about plastics and packaging and Anya Ramamurthy, fresh from talking to Faith Groups at Church House Westminster about her Quaker faith, talked about the Student strikes. The Haringey audience was joined by constituents from Holborn and St Pancras and other local people.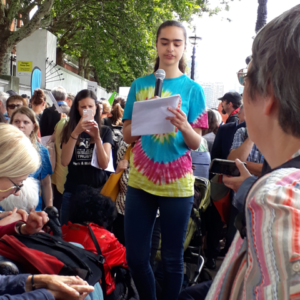 The audience was invited to complete sheets with their 'Demands' to the Government to take immediate action to avert climate and environmental breakdown.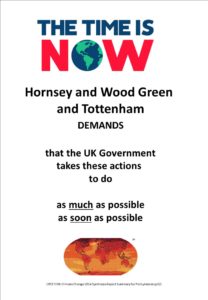 Catherine West MP arranged for these to be collected up and presented the pack of demands (see electronic version) to 10 Downing St on the 17th July.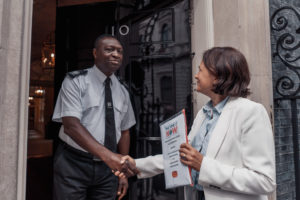 On the 6th August Catherine West received this response from Rt Hon Kwasi Kwarteng MP, Minister of State for Business and Energy (BEIS) "they do not currently consider it credible for the UK to aim to reach net zero emissions earlier than 2050". 
Kwasi took credit for the decarbonisation of the electricity supply (though merely due to an EU directive!), rather than addressing the Demands of Haringey people.
---
In April 2020 there was a follow up 'Time is Now' where Catherine West hosted a Zoom call where constituents could voice their concerns and ask her to support action.