Haringey's Rubbish and Recycling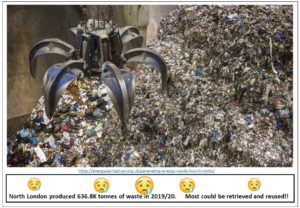 KEY POINTS

North London Boroughs recycle just 31% of waste – amongst the lowest in the Country
Each North London Borough has different rules about what can be recycled and how it is collected
New legislation will soon mandate more consistent, best practice recycling across the UK
Plastic, metal and biogenics (food & garden) could be extracted from rubbish and sold

Sorting, co-mingling, new life and burning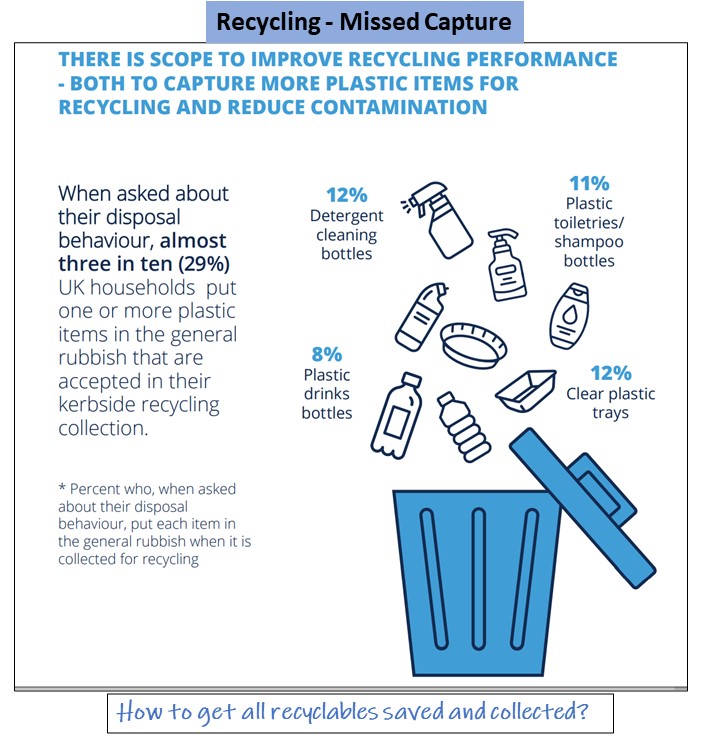 Sorting. People do their best to sort into rubbish and recycling streams at home, depending on what their local authority tells them to do, how much they understand and how motivated they are. (Infograms from WRAP)
On the go their choice is often between taking home, putting into street waste bins (or littering).
For those with cars there are Reuse and Recycling Centres to take recycling and rubbish.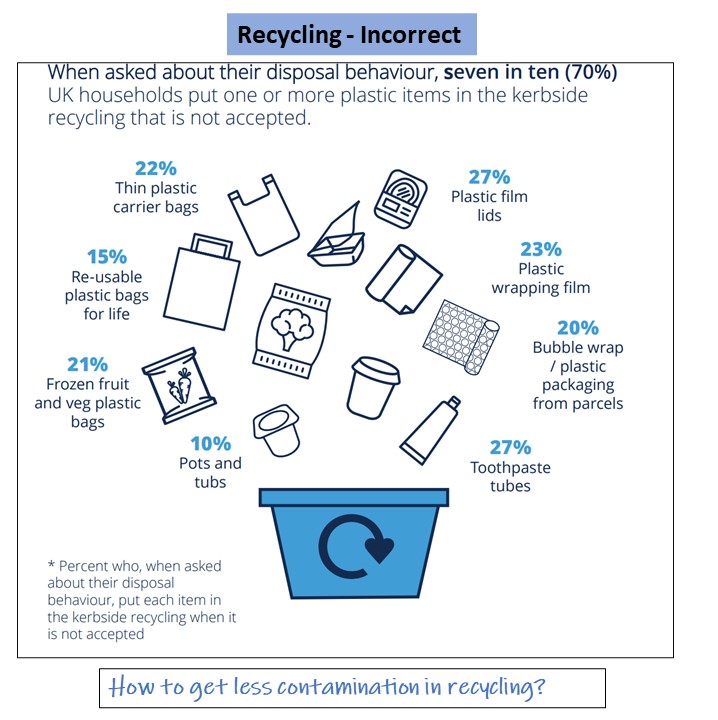 Co-mingled dry recycling goes to a new life – gets collected from kerbsides, estates and Reuse and Recycling Centres (RRCs).
Metal, plastic, glass, paper and cardboard are taken to Biffa Materials Recycling Facility (MRF) – except for Enfield's. Biffa uses machinery and pickers to take from bags, sort and bulk up materials to send to markets. The NLWA has a web page that says where these materials end up. For instance Plastic, cans and tins: all in the UK. Glass: some to Belgium. Cardboard: some to Germany, Turkey, Taiwan. Paper: some to Germany and France.  Lets Recycle explains some  contractual contamination issues.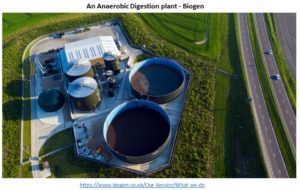 Food and garden waste becomes gas and fertiliser. It is collected and goes to sites run by Biogen outside London for anaerobic digestion, as also detailed by the NLWA web page

Bulky items get a new life as valuable materials and fuel for incinerators. Items such as furniture, mattresses and white goods are collected by appointment, or from the Reuse and Recycling Centres (RRCs). Some are taken to a site in Wembley. eg mattresses, deconstructed, valuable material such as metal extracted and bulked up for sale. That creates Refuse Derivative fuels for incinerators elsewhere in the UK.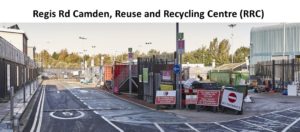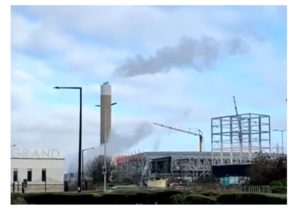 Rubbish generates electricity. The North London Local Authorities collect 'residual waste' from kerbsides, estates and RRCs and send via transfer stations to the London Energy Ltd site at Edmonton to be incinerated. See Disposing of North London's waste for more on the horrors of incineration, such as the highest carbon emissions of any method of generating electricity and of heating homes.
Contrary to rumours about landfill, only 5% of North London rubbish goes to landfill, according to a recent Freedom of Information response. This is likely to be mainly materials, such as rubble, so unlikely to be causing greenhouses gases emissions.
The 2020s solutions to most recycling
Extracting valuable recyclables from thrown away rubbish - more jobs, less cost, less carbon
Current plants that maximise recycling extraction include the IVAR LKS facility in Norway, where 82% of the plastics from black bags since 2019 are recovered and turned into plastics.
The Glasgow Recycling and Renewable Energy Centre (GRREC) takes rubbish and takes out anything that can be recycled. It sends food and organic waste to the Anaerobic Digestor and produces 'green' synthetic gas to reduce the use of fossil fuel gas.
North London could massively increase its recycling volume by extracting from 'rubbish' as well as processing the recycling sorted by residents.
"Mixed Waste Sorting is a solution to the plastic pollution problem that we can implement now" according to Tomra's 'The Ultimate Guide to Mixed Waste Sorting ' "we can avoid up to 730 million tonnes of CO2 emissions by 2030."  
Tomra's Test Before you Invest
Tomra has facilities for customers to trial typical residual waste loads.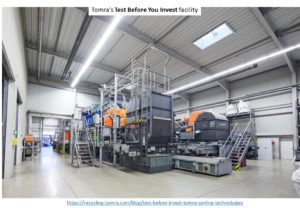 Moving from low recycling to high recycling
Who could get us recycling everything possible?
The Government can take action to provide carrots and sticks to the public and to waste authorities. The Mayor of London has some oversight and encouragement powers. The North London Waste Authority has a role in spreading the recycling message and each Local Authority has the responsibility to do everything they can to help/cajole their residents to recycle. Click on the stripes below for deatils of powers and actions.
What can North London people do?
The simple answer would be to put all recyclable items into recycling and not to put any non-recyclable items into recycling.
Faith that recycling will be collected and actually recycled.
If North London people had faith that the recycling they carefully sort is turned into new products, reducing the need for new oil extraction and plastic production, then recycling rates would certainly go up. Stories that collected recycling, and recycling from street bins just gets sent to an incinertor instead is a big disincentive "why should we bother?".
Helping the Planet
It is difficult for the average, busy North London resident to have a good grasp of the implications for the planet of incineration versus the latest extraction approach. UKWIN has a sound study "Guidance for Assessing the GHG Impacts of Waste Incineration" that explains the erroneous calculations that allow Waste Authorities to claim that incinerators are climate friendly. Very briefly claims that food and garden waste are 'zero carbon' should say 'are allowed to be called zero carbon because of damaging regulations' and 'low carbon heat' should say 'better than coal, but terrible compared to the grid – now, and as it decarbonises even further.' Incinerators emit very high levels of carbon to the atmosphere, whatever expensive lawyers argue is 'allowed'.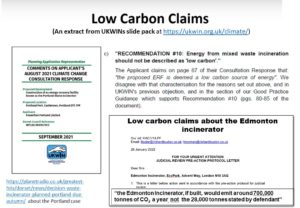 Knowing what can and can't be recycled
Missed Capture – The WRAP report's infographic near the top  shows that 29% of people put plastic items into rubbish that could be recycled, including shampoos bottles, clear plastic trays and detergent bottles.
Incorrect Recycling – conversely 70% of people put items into recycling that are not accepted at the Material Recovery facilities (see Biffa above). These include plastic bags, bubble wrap and plastic film.
Both are very understandable, because information on correct recyling is intermittant and sometimes wrong.
The NLWA suggested a searchable widget in its Residual Waste Reduction Plan  "that recognises different ways of describing an item and gives the correct answer" – possibly voice activated. This would certainly help the digitally aware – but has not happened yet.
Making it easy to recycle
Householders need space, containers, reliable collections and minimum smell and no vermin.
Food waste, if not home composted is best collected in caddies with specialist liners, and put out in vermin proof containers for weekly collection. Some Boroughs don't collect food waste, although it will soon be mandatory. When put with other rubbish it can get smelly and attract vermin.
Dry Recycling, including glass, paper&card, plastic will be required to be collected separately when new legislation comes in, and these need space and containers.
Nappies are a particular challenge to store hygenically and add to rubbish. The NLWA, with Nappies for London, offers a subsidy to buy reuseable (towelling) nappies, but these also need a dedicated bucket, sanitiser and a washing machine and drying facilities.
Garden Waste can be collected by the Council, Currently many councils charge for this, but new legislation is set to remove this charge.
Old furniture and white goods – can be given away, taken to a Reuse and Recycling Centre or collected by the council – at a price.
Electrical  items can sometimes be repaired, and the NLWA sponsored a directory of reliable electrical repairers in North London.