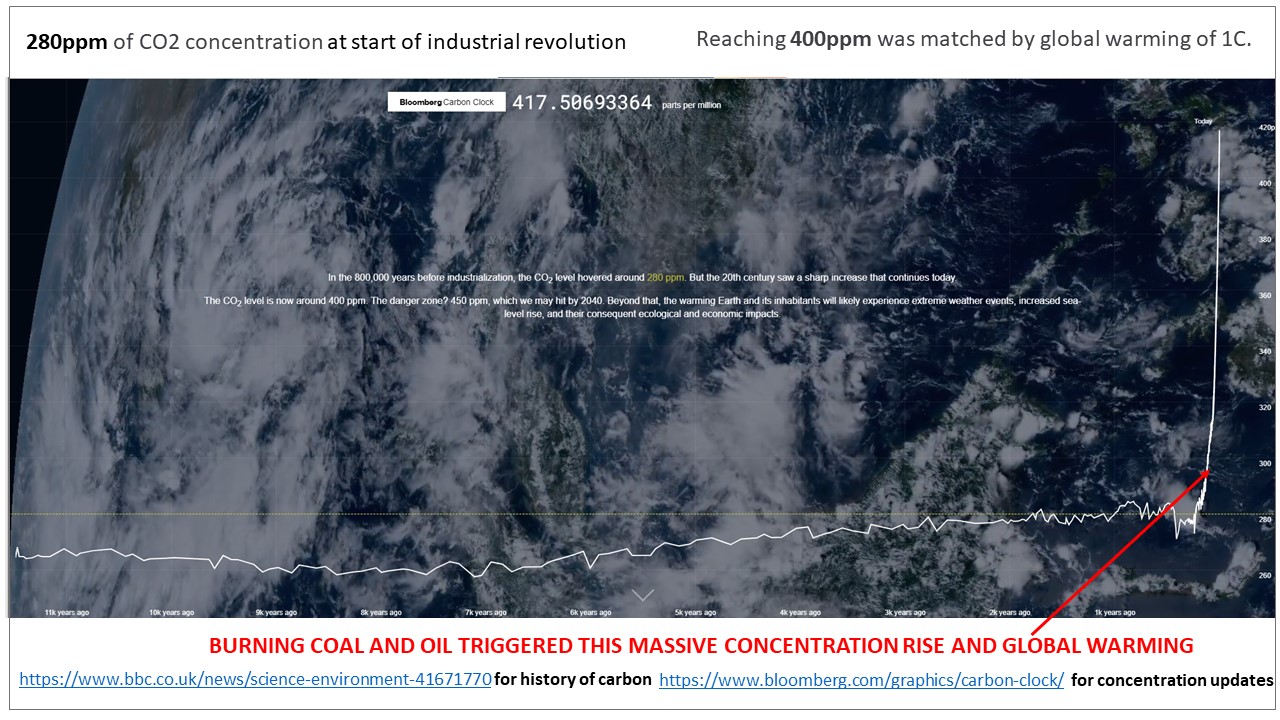 KEY MESSAGES
PETROL AND DIESEL ARE COOKING THE PLANET
PLANES AND BOATS AND TRAINS AND CARS COULD USE CLEAN FUEL
WALKING AND CYCLING IS BEST WHERE POSSIBLE
SOLUTIONS FOR CARBON ARE ALSO SOUTIONS FOR AIR POLLUTION
OFFSETTING HAS A (SMALL) ROLE TO PLAY
Haringey's actions are in the 'pink stripes' below
Cause and effect – The Bloomberg carbon clock above continually shows how the massive global warming we have today was caused by the extraction and use of oil over the same period. The growth in oil extraction tracks the growth of carbon intensity in the atmosphere since about 280mpp CO2 concentration when the UK kickstarted the industrial revolution to 417mpp CO2 by March 2021.
Gambling on catastrophic damage – And the Keeling Curve research notes that "a level of CO2 between 370 and 540 ppm has a 66 percent probability of keeping the world within this 2º C limit of warming" with illustrations of other climate indicators inc sea level rise, Greenland ice today, rea; time temperature and salinity, 
Offsetting to compensate for emissions – Where individuals, businesses and countries persist in travelling and transporting using oil there are various schemes to 'offset' and take action (eg payment) to sequester volumes of greenhouse gases. These are discussed in the 'green stripe' lower down.
Transport emissions are heating up our world
Quite simply any trip powered by fossil fuels causes global warming and polluted air.  Planes, boats, trains, trucks, cars. Conversely, any trip powered by human muscle power or renewable energy is low carbon and is also low pollution.  The oil industry is highly subsidised, and The Guardian Feb 2021 makes the point that "the profits for drilling go to individual companies while the damages, both environmental and financial, are largely borne by the local community and by state and federal taxpayers."  The prospect of losing huge profits may explain the misinformation campaigns discussed below.
We do need to make some journeys and to get essential deliveries and are used to making extra pleasure trips and expecting additional deliveries. Moving from oil to clean electricity sources and walking and cycling would make a huge difference to climate damage and to the air that we breathe.
Emissions from Well to Tank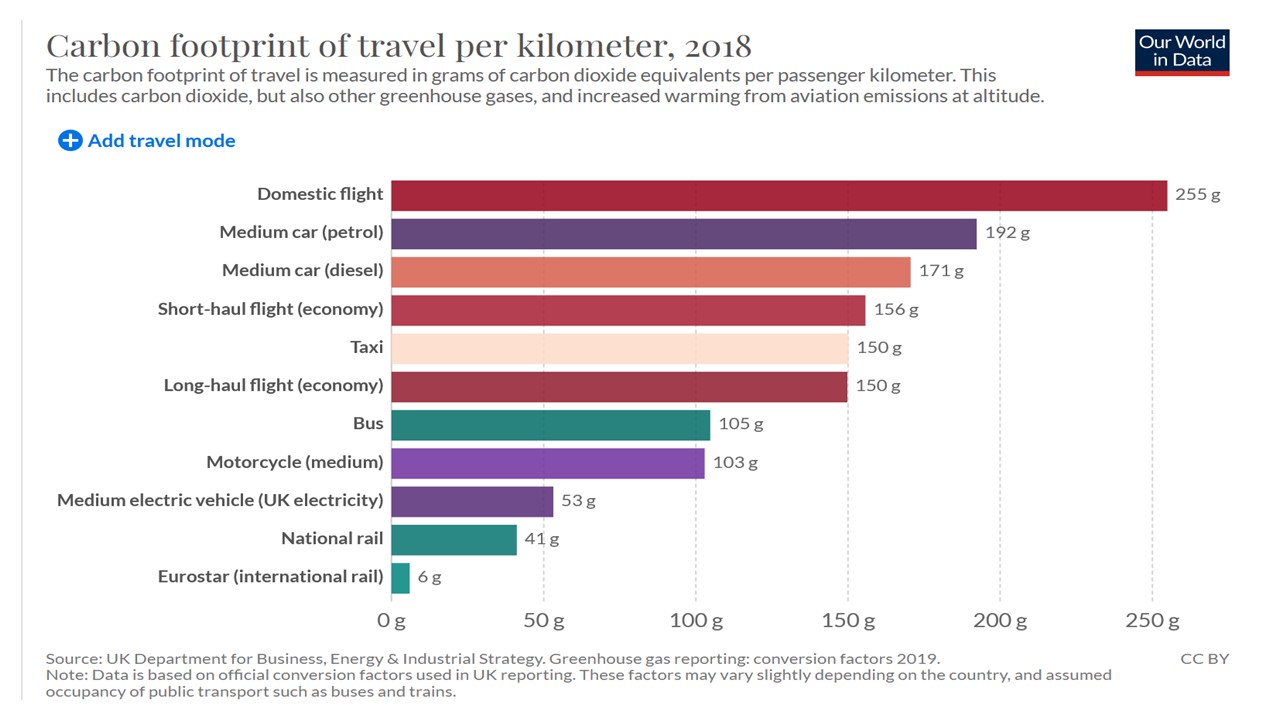 For short journeys walking and cycling incurs the fewest emissions, and Travel Carbon Footprint lists the  CO2eq per Km of other forms from the UK Government's methodology paper for greenhouse gas reporting. (eq means also adjusting for non-CO2 greenhouse gases and the increased warming effects of aviation emissions at high altitudes).
It is notable that
• Despite domestic and short haul flights emitting so much CO2 equivalent it is much cheaper to fly than to catch a train for holidays or business trips.
• Because diesel emits slightly less per km than petrol it is favoured by UK taxation, despite being much worse for polluting the air causing death and illness.
• The figure for emissions for EVs assume that they are made in a factory using high carbon fuel (eg coal) and that the electricity to fuel them is the average UK fuel mix. As electricity decarbonises these EV emissions will be much lower.
As electric vehicles (EVs) displace the demand for oil eg "1 million barrels per day of oil demand for Internal Combustion Engines (ICEs) could be displaced by just 48.9 million EVs" according to a  Carbon Tracker tool in July 2018. They concluded that "The whole world order, based on oil, will not be given up without resistance by those with power and riches".
The mechanism employed by the interests wanting to maintain the world order based on oil is explained by Michael Mann in 'The New Climate War' 2021 . He explains the techniques learned from Fear Uncertainty and Doubt (FUD) delaying gun controls and tobacco restrictions. They were first used to divert attention from the build up of greenhouse gases in the atmosphere to now systematically diverting attention from the need for protection from the Authorities to blaming individuals.