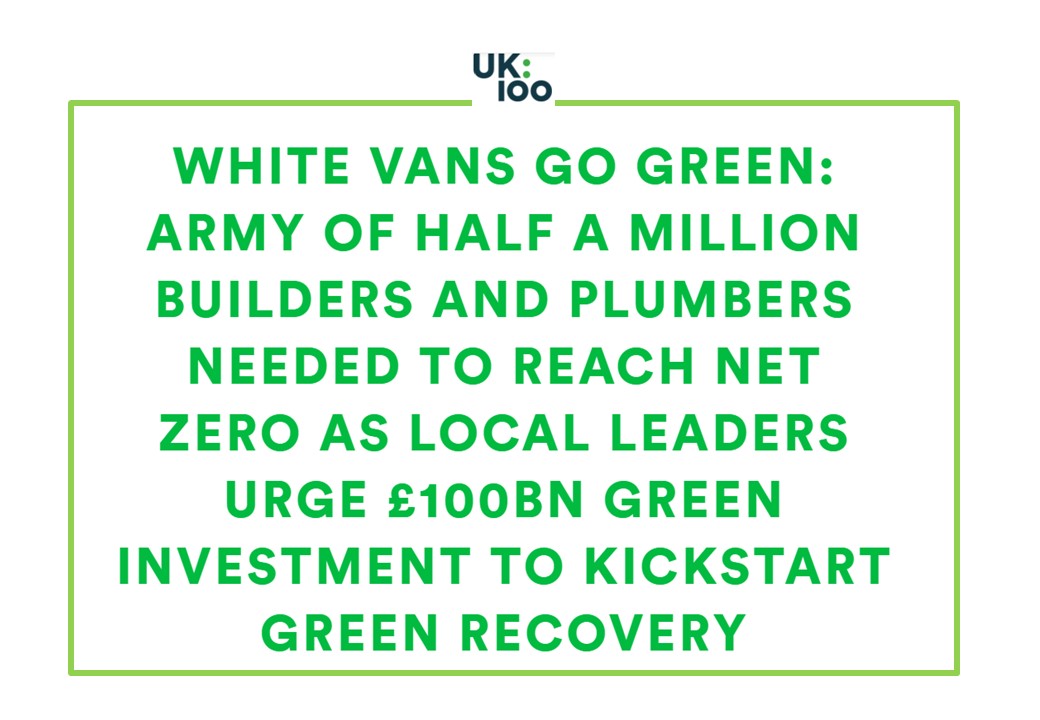 KEY MESSAGES for GREEN JOBS
As we recover from the Pandemic, and start to panic about the Climate Emergency, there are huge opportunities for Green Jobs
The Government needs to support Green Jobs – cost and policies
Main need for retrofitting jobs is insulation and heat pumps
GLA has Green New Deal to boost jobs
Haringey has limited levers to increase Green Jobs
Haringey Council's proposed actions are in the 'pink stripes' below

Global Economy – Global Pandemic
It is widely understood that, as millions of people lose their jobs in the Covid pandemic, quick actions to retrain and re-employ them in green sectors are obvious and crucial parts of the recovery. There is loud concern about the downturn in hospitality, tourism and aviation with pressure and lobbying to get these back to 'normal', even at risk of further Covid transmission. Voices to boost jobs in clean power, clean transport, green environment are less in evidence.
UK100 estimates that 455,000 'white van' jobs could be created across the UK's property and construction sectors if the government increases funding for retrofit projects and green skills. How many for Haringey? How to train and employ Haringey people in the Green Recovery?
UK Economy – UK Jobs
The New Economics Foundation (NEF) BUILDING A GREEN STIMULUS FOR COVID-19 A RECOVERY PLAN FOR A GREENER, FAIRER FUTURE July 2020. (p11) shows how the new green jobs can be spread across the UK, particularly areas of high deprivation.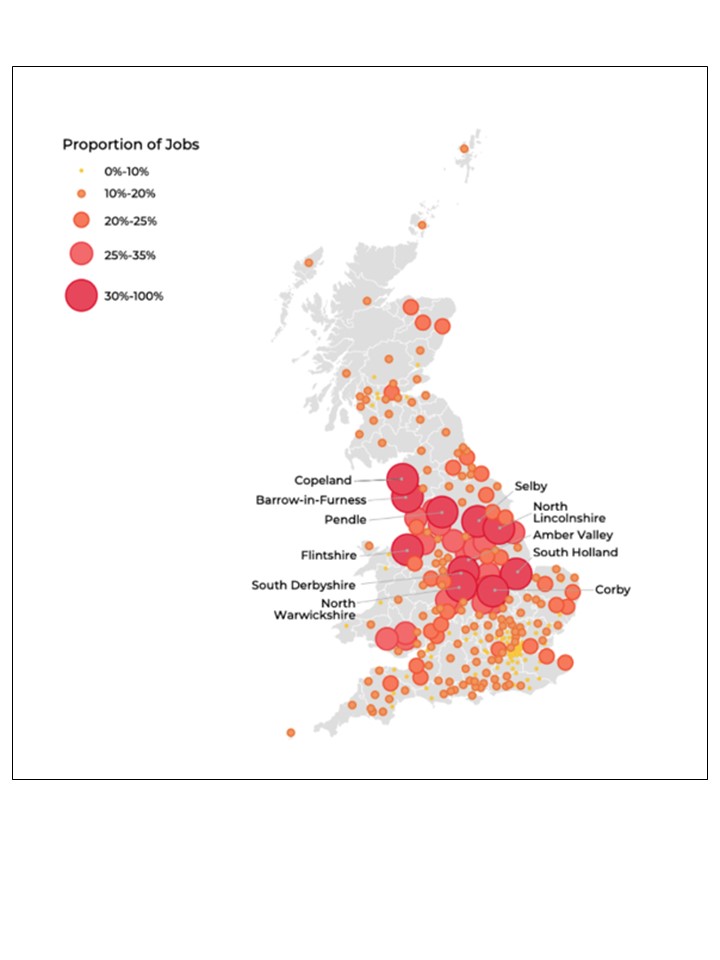 New Economics Foundation's Green Stimulus for housing models a radical scenario where around 9m UK homes receive whole-house retrofit measures.  This is not only necessary but is also feasible ….. 117,811 new direct jobs in year one, rising to a peak of 382,885, in year four. This is an average of 294,527 new jobs between 2020-2023/24, a 22% increase in total construction employment and a 162% increase in the renovation, maintenance and improvement sector. This rises to an average of 515,157 when factoring in indirect jobs.
A recent study undertaken by RetrofitWorks , reported by BHesco, said that to bring the UK's housing stock up to a minimum standard an additional 223.387 people would be needed in energy efficiency and retrofit trades (e.g. carpenters, electricians, plumbers, window fitters, roofers, etc).
The Local Government Association (LGA) outlined how the UK could create almost 700,000 new green jobs within a decade, and a further 488,000 through to 2050.
The NEF report (p5) breaks down the types of jobs and skills that could be created to boost both the economy and Covid recovery.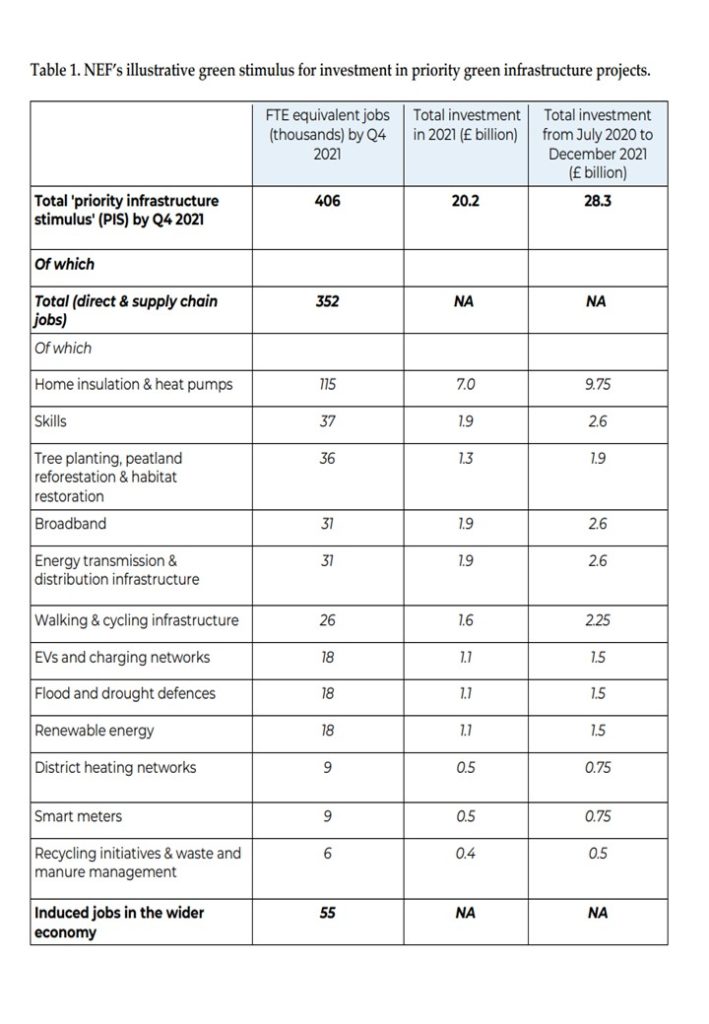 The Green Jobs Taskforce
The Green Jobs Taskforce, to be chaired by Energy Minister Kwasi Kwarteng and Skills Minister Gillian Keegan, forms part of the government's ambitious plan to build back greener and achieve net zero emissions by 2050.
Its aim will be to focus on the immediate and longer-term challenges of delivering skilled workers for the UK's transition to net zero including:
Ensuring we have the immediate skills needed for building back greener, such as in offshore wind and home retrofitting.
Developing a long-term plan that charts out the skills needed to help deliver a net zero economy.
Ensuring good quality green jobs and a diverse workforce.
Supporting workers in high carbon transitioning sectors, like oil and gas, to retrain in new green technologies.
Businesses represented by the Taskforce's membership include Orsted, Nissan, BP, Barratt Developments and Tata Steel. Representatives from the Construction Industry Training Board, Retrofit Works, National Grid, the East London Institute of Technology, the TYC, Newcastle College Energy Academy, the Tees Valley LEP, Prospect, WWF and Repowering have also been selected.
Haringey Climate Emergency – Haringey Jobs