See all our news posts here. 
Could your group use £1,000 to £50,000 for a project with demonstrable and
measurable carbon savings?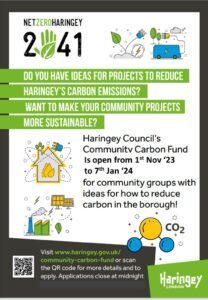 The Haringey Carbon Fund for 2023 is open from 1st November '23 to 7th January '24. For full details click here.
General Principles
Projects must show a demonstrable and measurable carbon saving. This could be achieved by reducing energy bills for a building after insulating it, and/or installing a replacement lowcarbon heat source to provide heating and hot water.
Carbon reductions could also be achieved through lower carbon transport solutions, such as an e-cargo bike instead of a van.
Community projects must also benefit and engage the wider community in the climate change agenda by promoting the benefits of the project and engaging residents into wider behaviour changes.
Contributing to Haringey's equality objectives is a final important aspect for projects receiving funding. Engagement should take place with a cross-section of Haringey's population, beyond the immediate group who may benefit.
Community Carbon Fund events

| Date | Time | Location | Booking link |
| --- | --- | --- | --- |
| Wednesday 8 November | 2.30 – 4pm | Northumberland Park Neighbourhood Resource Centre, 177 Park Lane, Tottenham, N17 0HJ | Eventbrite |
| Thursday 16 November | 6.30 – 8pm | Common House, Chatto Mansions, 1 Olmsted Close, Woodside Avenue, Muswell Hill, N10 3FB | Eventbrite |
| Thursday 14 December | 6 – 7.30pm | Online | Eventbrite |
Previous Winners
Take a look at previous winners here.
7 successful projects to be implemented in 2023:
Ten87 Studios (external link) will instal rooftop solar photovoltaic (PV) panels to generate around 22,799 kWh per year (saving nearly 5 tonnes in carbon emissions (tCO2) per year). This will result in energy cost savings the the active engagement with over 150 recording artists, creating a culturally significant musical network within the community.
The Ubele Initiative (external link) will receive part-funding for the Eat Wood Green project on Bury Road car park. The grant will fund an electric e-cargo bike for local deliveries of produce, seeds and equipment; install a solar PV panel system to generate around 12,072 kWh of renewable energy per year (saving 4 tCO2 per year); and instal a rainwater harvesting system for their wider food growing project. The site is used to engage with local communities, including schools through the provision of a food education space and raising awareness of carbon footprint and food sovereignty.
The Cypriot Community Centre (external link) will be installing LED lighting, replacing their existing lighting within the ground and first floors of their building. This will save an estimated 3 tCO2 per year and help continue running their drop-in warm hub services to residents.
Muswell Hill Methodist Church (external link) will install a trial Air Source Heat Pump (ASHP), providing heating to a room which is used by the local community and organisations. Through collaboration with Muswell Hill Sustainability Group (external link), the ASHP will be used as a community engagement tool, to demonstrate how heat pumps work and monitor as a 'citizen science' project, saving 0.8 tCO2 per year.
The People's Pantry (external link) will receive a microgrant to repair their sewing machine to create recycled linen and fabric bags. These will be used for 'zero waste' food refills and deliveries. This will reduce the amount of glassware and plastic used as refill vessels and paper bags for delivery. The linen and fabrics will come from the community.
The Haringey Go Green Team will receive a microgrant to organise carbon footprinting workshops for small businesses as part of the Big Green Week (external link) and London Climate Action Week (external link) in June 2023.
A local resident, Daniel, will receive a microgrant to organise a community pop-up event for local business owners to promote sustainability and carbon reduction in the events and hospitality industry.
6 community projects will reduce carbon and empower the community across Haringey over 2022/23:
Collage Arts' 'Wood Greening: Championing Carbon Cutting' project in Noel Park has installed double glazing and LED lighting in their community space. With three local schools, Collage Arts produced 3 films (external link) to showcase innovation and talk about the role of local businesses in reducing their emissions.
Haringey Fixers have set up 'Tottenham Repair Cafés' – Eventbrite (external link) to support the circular economy and upcycling in the area, and has been running regular events in Broadwater Farm Community Centre and Lordship Hub.
Living Under One Sun's (LUOS) 'LoCaL3' project will assess the feasibility of low-carbon living and support the uptake of community-led innovations in low carbon, low-impact food production.
The Lordship Hub installed new LED lighting and solar panels on their community building, and held monthly surgeries on reducing emissions, and identifying and nurturing local 'Carbon Champions'.
An LED lighting initiative at the Turkish Cypriot Community Association (TCCA) in Harringay is aimed at reducing energy use in their building
The 'Community-Powered Solutions' project from Tottenham Green-based Edible London will replace their diesel delivery van with an electric equivalent to support the redirection and reduction of food waste. Edible London are replacing their diesel delivery van with electric cargo bikes to support the redirection and reduction of food waste.
What are the top priorities for handling our waste?

Focus Groups to inform a new strategy
The North London Waste Authority (NLWA) is obliged to produce a new strategy to guide handling waste from Barnet, Camden, Enfield, Hackney, Haringey, Islington, and Waltham Forest, because the previous strategy is out of date. This is the version of the strategy   published in February 2009.
The new Joint Waste Strategy for North London (NLJWS) will provide the framework for waste management in north London up to 2040 and Focus Groups will be held over September – two via zoom, with one in-person in Camden and one in Enfield. Attendees must register in advance to attend.
The focus groups follow on from a survey, here  ended on 15th Sept with 7 questions asking opinions about reducing waste, repairing more, recycling more and the importance of waste jobs, waste disposal, carbon emissions.
The focus groups will be around the topics addressed in the survey, allowing attendees to hear from the NLWA strategy team and to discuss aaspects of the developing strategy with them.
 This waste hierarchy triangle illustrates the priority approaches for managing waste. Waste hierarchy guidance (publishing.service.gov.uk) Defra 2011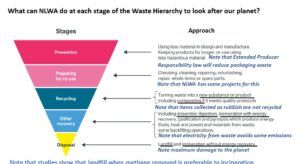 The main Aims and Objectives of the out of date strategy here  (page 2) were:
1.B In December 2001, the North London Partner Authorities agreed the following joint Aims and Objectives:
Aims=
• To promote and implement sustainable municipal wastes management policies in North London
• To minimise the overall environmental impacts of wastes management
• To engage residents, community groups, local business and any other interested parties in the development and implementation of the above policies
• To provide customer-focused, best value services
Objectives=
• To minimise the amount of municipal wastes arising
• To maximise recycling and composting rates
• To reduce greenhouse gases by disposing of less organic waste in landfill sites
• To co-ordinate and continuously improve municipal wastes minimisation and management policies in North London
• To manage municipal wastes in the most environmentally benign and economically efficient ways possible through the provision and co-ordination of appropriate wastes management facilities and services
• To ensure that services and information are fully accessible to all members of the community
• To maximise all opportunities for local regeneration
• To ensure an equitable distribution of costs, so that those who produce or manage the waste pay for it
Are these still our aims and objectives in 2023, looking to 2040?
If you want to know more about what happens to recycling and 'rubbish' checkout Haringey Waste for a summary and also Collecting Our Waste and Disposing of North London Waste.
The focus groups give us the opportunity to make sure that the NLWA addresses today's waste challenges in the best way for the planet, as well as for North London residents. We all need to support Government efforts to reduce the amount of stuff needing to be recycled or disposed of as quickly as possible to reduce our carbon emissions and get to 'net zero'.
The NLWA can help with that aim, so check out the old strategy and let the NLWA know how the new strtegy can address today's waste challenges without harming the planet.
12.30 – 2.30. Monday 2nd October, Monday 6th November.: 5th February, Monday 4th March.
Come along for a Haringey Community Assembly. Whilst the world goes to the UAE for COP28, what can we do in Haringey?
Come along and hear from Haringey officials on their environmental work