LINKS TO PRODUCTS IN SMALL MEASURES LEAFLET
The products featured in this Muswell Hill Sustainability Group leaflet are listed below with links. No responsibility is accepted for these specific products, which are for example only. as searching on the internet will discover alternative products.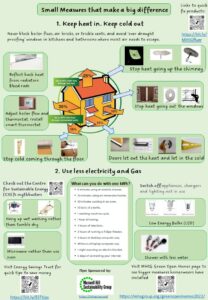 To download full flyer with the reverse side which has links to help with bills click here.
————————————————————————————————————————————————————————————————————————–
Keeping heat in and cold out
Draughts – round windows, under doors, through letterboxes, up chimneys. The Centre for Sustainable Energy leaflet on Draught Proofing has the most common draught-zones … and DIY solutions to dealing with them.. click here.
Stop Heat going out of the window
Closed thick curtains eg Dunelms click here
Self adhesive draught seal eg B&Q click here
Filmglaze Transparent layer of film click here
Stop heat going out the door
Draught Excluders door seals eg B&Q click here
Letterboxes with brushes eg Screwfix click here
Catflap eg Ecoflapdirect click here
'Sausage' stuffed fabric draught excluder. Make yourself or eg Etsy click here
Stop Cold coming up through the floor
Wood floor sealant eg No Nonsense click here
Rugs or carpets eg Ikea click here
Floorboard draught seal for gappy boards eg Stopgap click here
Reflect back heat from radiators
Radiator foil Eg Insulation Superstore click here
Bleed Radiators – as per Centre for Sustainable Energy click here 
Stop Heat going up the chimney
Chimney Umbrella click here.
Chimney ballooon click here
Chimsoc click here
Chimney Sheep click here
Using less energy
Light Bulbs
Eg from LEDHut click here.
B22 bayonet 8.5W non-dim
E27 screw 8.5W non-dim £2.19;
GU10 twist and lock 4.2W non-dim £1.69
Boilers.



Turn down your mean flow temperature as per Energy Guide click here
Turn down your thermostat as per Money Savings Guide click here
Install a smart thermostat eg Hive Home click here
Shower with less water
Eco Shower heads eg Supersoftshower click here 
Hang up wet washing rather than tumble dry
Garden washing lines and indoor racks eg Good Energy tips click here  and Sheila Maid overhead rack click here
Microwave rather than use oven
as explained at Confused About Energy click here 
———————————————————————————————————————————————————————————————————————–
For further information about the 2022 Energy Crisis and bigger measures that homeowners can take click here.
Haringey Climate Forum's page on The 2022 Energy Crisis.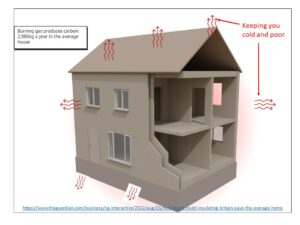 What is happening in Haringey, London and UK wide to address the crisis?
What can you do? Small measures with great effect, homeowners big measures?